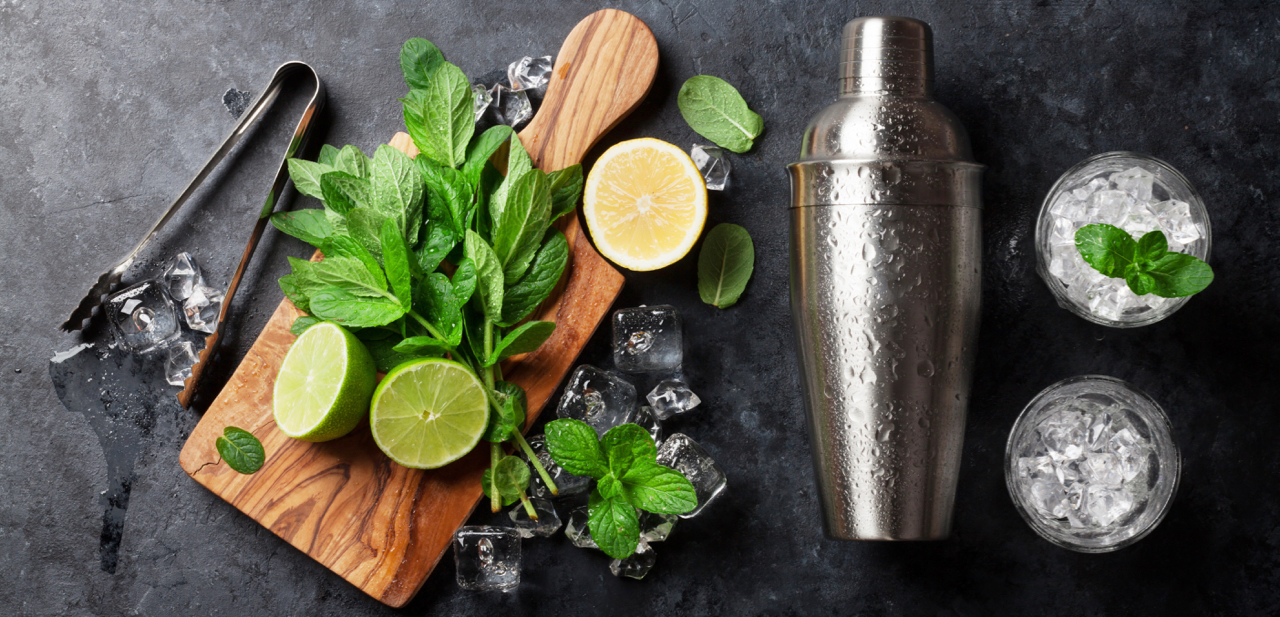 Sidecar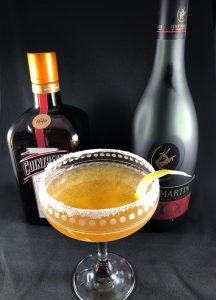 2 oz Cognac (I use Remy Martin VSOP)
1 oz orange liqueur (I use Cointreau)
1/2 oz lemon juice
Spread superfine sugar on small plate. Rub lemon wedge halfway around rim of chilled martini or coupe glass. Dip moistened edge of glass in the sugar to lightly coat outside rim of glass. Set aside.
In cocktail shaker, combine Cognac, orange liqueur, and lemon juice. Add ice and shake vigorously until well chilled, about 30 seconds. Strain into prepared martini or coupe glass.  Garnish with a lemon twist and serve neat.
Mocktail Version
Unfortunately, there is no mocktail version.  Perhaps a fresh lemonade!
Cucumber Basil Smash
• 2 oz Gin
• 1 oz dry vermouth
• 3-4 oz Dry Cucumber soda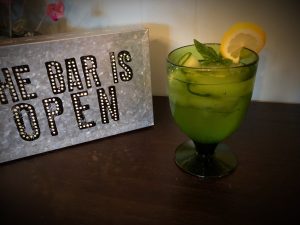 • 3-4 basil leaves
• Several slices of cucumber
• Lemon wheel garnish
In a cocktail shaker, muddle cucumber slices and basil. Add gin, vermouth, and and ice, shake vigorously. Strain into a cocktail glass with ice, top off with Dry Cucumber Soda. Stir, and garnish with a basil leaf and lemon wheel. Cheers!
Mocktail version:  Eliminate the gin and vermouth, and enjoy!
Gin and Marmalade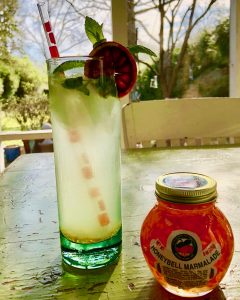 2 oz Gin (I used Tanqueray)
A splash of triple sec
1 bar spoon of orange marmalade
Juice of ½ lemon
A few leaves of mint
Your favorite fizzy water
Combine gin, triple sec, marmalade, and lemon juice with ice in a shake, and shake vigorously (extra shaking helps incorporate the marmalade). Muddle the mint in the bottom of glass, add pour contents of the shaker into the glass, adding more ice if needed.  Top off with fizzy water, stir, and enjoy
Mocktail Version
Eliminate the gin and triple sec and add another spoon of marmalade.
The Verdant Lady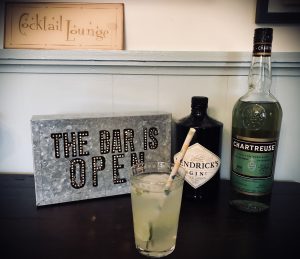 1½ ounces gin (such as Hendrick's)
1/2 ounce fresh, strained lime juice

1½ teaspoons (1/4 ounce) simple syrup

1 teaspoon (1/6 ounce) Green Chartreuse

4 large mint leaves, plus a sprig for garnish
In a cocktail shaker filled halfway with ice, combine the gin, lime juice, simple syrup, chartreuse, and mint leaves. Shake vigorously for 30 seconds, then strain into a coupe. Garnish with a mint sprig if you like, and serve.
For a lighter beverage, serve over ice, with a splash of fizzy water.
It may seem like a tiny bit of Green Chartreuse, but a little goes a long way!
Mocktail Version
Eliminate the gin and
Green Chartreuse
, and add a teaspoon of simple syrup and muddled lavender.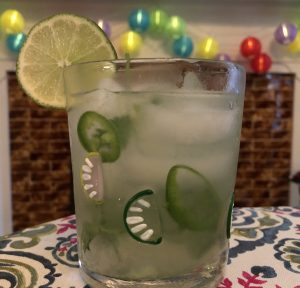 Pineapple Jalapeño Margarita
2 oz blanco tequila
1 oz fresh lime juice
1-2 oz pineapple coconut water
A few sprigs of cilantro
A couple of slices of jalapeño
Muddle the jalapeño and cilantro in the bottom of your glass. Now add ice. In a cocktail shaker, mix tequila, lime juice, and pineapple coconut water with ice. Shake thoroughly. Pour into glass with the cilantro and jalapeño, garnish with a lime slice and a sprig of cilantro.
Mocktail Version
Eliminate the tequila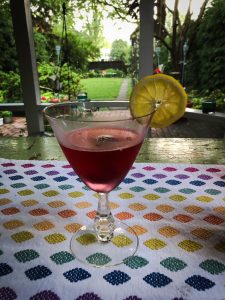 Fresh Strawberry Martini
2 oz vodka (I used Ketel One)

½ oz orange liqueur (I use Cointreau)

½ oz fresh lemon juice

4-5 fresh strawberries

A pinch of vanilla powder
Muddle the strawberries in the bottom a cocktail shaker. Add ice, and then the remaining ingredients. Shake thoroughly and strain into a martini glass. Garnish with a fresh strawberry and a lemon wheel.  Cheers!
Mocktail version: Eliminate vodka and orange liqueur, add two more strawberries, 1/2 oz simple syrup, and top with fizzy water.
Browned Butter Snickerdoodles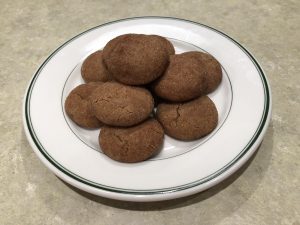 INGREDIENTS
2 1/2 cups all purpose flour
1 teaspoon baking soda
2 teaspoons cream of tartar
1/2 teaspoon cinnamon
¼ teaspoon of salt
2 sticks (1 cup) unsalted butter
1¼ cup packed dark brown sugar
1/2 cup granulated sugar
1 large egg plus 1 egg yolk
1 teaspoons vanilla extract
1 tablespoon sour cream
For rolling mixture:
1/4 cup sugar
2 teaspoons cinnamon
INSTRUCTIONS
Whisk together the first five dry ingredients in a bowl and set aside. Melt butter in a saucepan over medium heat. The butter will begin to foam. Make sure you whisk consistently during this process. After a couple of minutes, the butter will begin to brown on the bottom of the saucepan; continue to whisk and remove from heat as soon as the butter begins to brown and give off a nutty aroma. Immediately transfer the butter to a bowl to prevent burning. Set aside to cool for a several minutes.
Mix the butter and sugars until thoroughly blended. Beat in the egg, yolk, vanilla, and sour cream until combined. Add the dry ingredients slowly and mix until  just combined.
Chill your dough for 3 hours or as long as possible in the refrigerator.  You want the dough VERY cold. If you desire a 'puffy' cookie, place them in the fridge overnight.
Preheat the oven to 350 degrees F. Once dough is chilled measure about 1/12 tablespoons of dough and roll into a ball. Meanwhile mix 1/4 cup sugar and the 2 teaspoons cinnamon in a bowl. Roll balls in cinnamon-sugar mixture. Place dough balls on cookie sheet, 2 inches apart.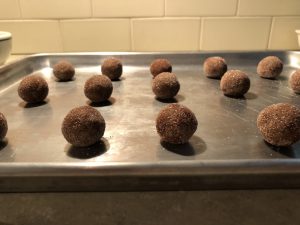 Bake the cookies 8-11 minutes or until the edges of the cookies begin to turn golden brown. They will look a bit underdone in the middle, but will continue to cook once out of the oven. Bake longer if you like crispier cookies. Cool the cookies on the sheets at least 2 minutes. Remove the cooled cookies from the baking sheets after a few minutes and transfer to a wire rack to cool completely. Repeat with remaining dough.