This is one of my favorite summer go-to cocktails!  Whenever I go to the beach, I try to take the road less traveled, and make getting there part of the fun.  A Southern Season in Chapel Hill NC is a remarkable stop, with gourmet foods, wines, coffees, really anything you can think of.  http://www.southernseason.com/
I'm always on the lookout for vermouth variations that are new to me, and I got lucky one year, stumbling upon a Spanish version, Priorat Natur http://prioratnatur.com/en/38-vermut.html.  And of course another part of me beach vacation fun is mixing drinks with friends, and I came up with this cucumber and basil deliciousness.
I have made this cocktail with various gins, Hendricks, Tanqueray Ten, and most recently with Tanqueray Rangpur.  Whatever you may have on hand, this is a truly refreshing summer drink!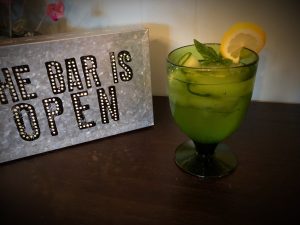 Cucumber Basil Smash
• 2 oz Gin
• 1 oz dry vermouth
• 3-4 oz Dry Cucumber soda
• 3-4 basil leaves
• Several slices of cucumber
• Lemon wheel garnish
In a cocktail shaker, muddle cucumber slices and basil. Add gin, vermouth, and and ice, shake vigorously. Strain into a cocktail glass with ice, top off with Dry Cucumber Soda. Stir, and garnish with a basil leaf and lemon wheel. Cheers!
I'm sticking with the fresh strawberry theme tonight since strawberry season only happens once a year, and I need to make the most of it!
I once had the perfect raspberry martini, and set about trying to duplicate it.  This drink is one of the results.  It is on the sweet side (depending on how sweet your strawberries are), but the lemon offsets it nicely.
Fresh Strawberry Martini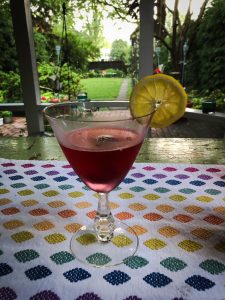 2 oz vodka (I used Ketel One)

½ oz orange liqueur (I use Cointreau)

½ oz fresh lemon juice

4-5 fresh strawberries

A pinch of vanilla powder
Muddle the strawberries in the bottom a cocktail shaker. Add ice, and then the remaining ingredients. Shake thoroughly and strain into a martini glass. Garnish with a fresh strawberry and a lemon wheel.  Cheers!
Fresh strawberry season is one of the best times of the year in Marietta! Acres of strawberry fields run along the banks of the Muskingum River, and nothing beats the smell and taste of the ripe berries. It tells us all that summer is almost here!! While they're in-season I always figure out new ways to enjoy them. Here's my latest favorite:
Tequila Strawberry Smash
2 oz blanco tequila

1-2 oz coconut water

½ oz fresh lime juice

3-4 fresh strawberries

1 slice of jalapeño pepper (optional)
Muddle the strawberries in the bottom of an old-fashioned/rocks glass. Add ice, tequila and lime juice, then top if off with coconut water. Stir well, and garnish with a lime wedge and jalapeño slice. Cheers!
Become a libationologist! It's a refreshing change!